Residential
The Town of Duck Lake has residential lots for sale in
several areas of town. Most lots measure 60' by 122'.
Lots are priced at $10,000. An additional $5,000 charge will be levied
for water & sewer connection.
A downpayment of 50% of the purchase price is required,
with the balance paid before construction begins. A building must
be in place within one year, at which time the transfer of title will
take place . Surveying, building permit, land transfer, and utility
hook up fees are the responsibility of the purchaser.
Commercial property is available in the downtown sector as well
as in the perimeters to the north and east.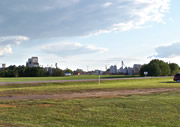 (Lots for sale highlighted in yellow)