Canoeing
Both the North and South Saskatchewan River provide a challenging and exciting experience.
Curling
Duck Lake Curling Rink - three sheets of natural ice.

Fishing
There are many northern lakes just a couple hours from Duck Lake. Trout, Perch, Northern Pike, and Pickerel are the most common fish found in these lakes. Pike and some Pickerel are caught in both Saskatchewan Rivers.

Golfing
Valley Regional Park - Rosthern
- 9-hole grass green irrigated course
Valley Regional Park - Waldheim
- 9-hole sand green course
Wakaw Lake Regional Park
- 9-hole grass green course
Waskesiu (Prince Albert National Park)
- 18-hole grass green irrigated course
Prince Albert - 6 courses
Halls and Rental Facilities
The Royal Canadian Legion and Belle-A-Drome halls are available to rent for private functions.
Hockey and Skating
The Duck Lake Arena has natural ice. Public skating is scheduled daily from December to February.
The Beardy's and Okemasis First Nation arena is a state of the art hockey rink with modern touches, including artificial ice. This arena is home to a midget AAA hockey team.
Hunting
The area around Duck Lake is excellent for duck, and to some extent geese, because of the number of sloughs and the two rivers that are on either side of Duck Lake. There is also elk and black bear season that hunters from all over the province can relish. Deer populations are high because there are numerous bush clumps and a forest that they can take refuge in. The deer also graze in the meadows and on river banks. The land structure around Duck Lake makes for a spirited chase that is rewarded with satisfaction of besting nature and maybe even shooting a prize buck.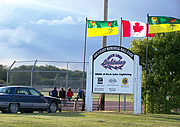 Camping
Russell Hanson's Mounted Police Museum has electrical
campsites.
Valley Regional Park (near Rosthern) has a 18 hole golf course as well as numerous campsites.

Parks and Playgrounds
The Duck Lake Lions Park located in the center of town contains a playground and areas for people to relax.

Stobart Community School - state of the art playground for pre-school and elementary aged school children.
Skiing
The best cross-country skiing is located in Duck Lake's back door, at Eb's Trail in the Nisbet Forest. The trails, maintained by the Saskatoon Nordic Ski Club, vary in difficulty and are great for both expert and beginner skiers. Maps are available at saskatoonnordicski.ca.

Snowmobiling
Popular river hills, as well as the Nisbet Forest, are just a few kilometers from Duck Lake.
Maps of the snowmobile trails in the Nisbet  Forest are drawn by the Saskatchewan Snowmoblile Association. They can be downloaded at saskatoonsnowmobileclub.com.

Swimming
Outdoor pool located in Rosthern at the Centennial Park Lake swimming in Wakaw Lake or any northern lake.
Regional Parks
Valley Regional Park
Rosthern Valley Regional Park is located 18 kilometers south of Duck Lake on Highway #11 . The Valley Regional Park has an 18-hole, grass green, irrigated, golf course including a newly developed driving range and a beautiful campground with 56 sites (electrical and non-electrical sites are available). The park also offers an excellent recreational playground and a miniature golf course. Potable water is available.

Wakaw Lake Regional Park
Wakaw Lake Regional Park is located sixty-one kilometers southeast of Duck Lake on highway #312. This Regional Park offers fishing, camping, boating, and golf.

Valley Regional Park
The Valley Regional Park in Waldheim has a 9 - holel, sand green, golf course. For those people who like to fish, there is a trout pond located within the park.

Provincial Forest Reserve (Nisbet Forest)
The Nisbet Forest is located only a couple of kilometers north of Duck Lake on Highway #11 and offers a wilderness that any nature lover would appreciate. In summer, there are hiking trails, and in the winter the forest offers the best cross-country ski trails. People of all ski abilities will enjoy the trails.

Lakes and Rivers
The North and South Saskatchewan rivers are perfect for canoeing and fishing. They run through one of Canada's most significant historical areas.
Each of the rivers has nearby ferry crossings. It does not matter how many times a person has ridden on a ferry; every trip is as exhilarating as the next.
Within a huge radius of Duck Lake there are resorts and hundreds of lakes that are perfect as recreation areas for the entire family. These lakes offer swimming, fishing, sailing, water skiing, and canoeing.

National Parks
Prince Albert National Park
Waskesiu is only 129 kilometers north of Duck Lake on Highway #11. This park offers a variety of activities for people of all ages. There is one of the most challenging 18-hole golf courses in Saskatchewan, along with hiking trails, camping, boating, fishing, and shopping.