Have a Question about Duck Lake?

Click here to find out more information about what our town has to offer.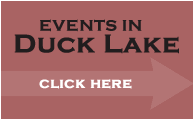 Community Profile
The Town of Duck Lake is located on Highway #11, 88 kilometres North of Saskatoon and 44 kilometres South of Prince Albert. Duck Lake is in the center of an area great in historical importance. Within a few minutes drive from Town a person can visit the sites of the Battle of Batoche, the Battle of Duck Lake and the Duck Lake Massacre, Fort Carlton, a buffalo jump, the St. Laurent Shrine and the Seager Wheeler Farm. As this area is rich in history the Town of Duck Lake has an aggressive tourism marketing effort that focuses upon the Indian, Metis, and Pioneer cultures.
The Regional Interpretive Centre has been in operation since 1992 and has approximately 8,000 visitors a year. This centre is the showcase for the history of this region. There are ten murals and one metal sculpture that are located on various buildings throughout town which tell the stories of the major past events that contributed to the uniqueness and richness of the region. These murals draw many tourists and perform an important function in informing people of the events that have shaped Duck Lake's and the region's culture. Anyone who travels in this area will have an experience that they will never forget.
For more information please contact the Town Office in Duck Lake at 306-467-2277 or town.ducklake@sasktel.net.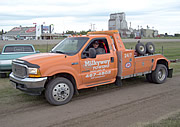 Visiting Duck Lake | Business in Duck Lake | Town Office | Living in Duck Lake