Other health related services
Medical Clinic - Doctors from Rosthern come into town twice a week (Monday and Friday from 1:00 - 5:30 PM)
Nurse Practitioner - Stobart Community School
Pharmacy - Carlton Trail Pharmacy
Home Care Services
Public Health Nurse
Baby Clinics once a month (second Wednesday of the month)
Chiropodist - Available in Rosthern once a month
Chiropractor - Tuesdays and Thursdays in Rosthern
Ambulance services - Rosthern and District Ambulance Care Inc.
Senior Citizens Housing complex
Rosthern Hospital is 18 kilometres South of Duck Lake and is operated by the Saskatoon Health District. There are six medical doctors and 53 full and part-time employees working at the hospital. There are 21 active treatment beds, 6 specialty beds, and 4 paediatric beds available.
Housing
Saskatchewn Housing Authority - Family, Senior and single housing - 47 units
Private rentals/sales - list of Landlords available at the Town Office.
Residential lots- please see Town office - property
Transportation services
Highways
Duck Lake is located midway between Prince Albert and Saskatoon on Highway #11 at the junction of Highway #212.

Truck Transport
Duck Lake is served by Rosthern Valley Transfer, Purolator Courier, Brinks, Co-Op and Loomis.

Passenger Bus Service
Duck Lake is serviced by the Saskatchewan Transportation Company seven days a week. There are six buses daily and packages up to 100 pounds are accommodated by bus freight services.

Ferry Service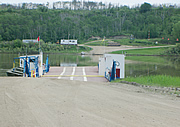 There is ferry service on either side of Duck Lake. The Wingard Ferry to the west, crosses the North Saskatchewan River and connects people to various towns and northern lakes. To the east is the St. Laurent Ferry. It crosses the South Saskatchewan River, making a shorter trip to some of the historic sites.
These Ferries not only provide transportation but also enjoyment for those people who cross the river to fish, picnic or to experience the thrill of riding the ferry for the first time.

Railways
Rail service in Duck Lake is provided by Omnitrax. Consumer cars for freight are available by arrangement.

Air Service
Air Service is accessible in Prince Albert (46 km) and Saskatoon (88 km). The Prince Albert Air Strip is the closest Air Service available with a 1525 concrete runway. Regina has the nearest customs office.

Communication Services
The Saskatchewan Valley News
- based in Rosthern and is sold weekly in businesses or delivered to subscribers by mail.

The Star-Phoenix
- based in Saskatoon and is delivered daily to households by carrier

The Prince Albert Daily Herald
- based in Prince Albert

Western Producer
- based in Saskatoon

Rural Roots
- based in Prince Albert and is delivered weekly by mail

Saskatoon Sun
- based in Saskatoon and is delivered weekly to households by carrier

Radio Stations received - Numbers indicate dial location

AM Radio
CJWW Saskatoon 600
CKSW Swift Current 570
CKBI Prince Albert 900
CKCK Regina 620
CBC Watrous 540
CKOM Saskatoon 650 & Melfort 750
FM Radio
CFMC Saskatoon 95.1
CKOM Saskatoon 102.1
CFMM Prince Albert 99.1
CFQC Saskatoon 92.9
CBC Saskatoon 105.5
CBC Regina 89.1
Television
CFQC (CTV) Saskatoon
CBKST (CBC) Saskatoon
CBKFT (FRENCH) Regina
CKBI (CBC) Prince Albert
CFSK (STV) Saskatoon
CIPA (CTV) Prince Albert
Cable service is provided to Duck Lake by Access Communications out of Edmonton. Phone 1-866-363-2225 for service information.
High Speed Internet is available within the Town. Rural residents subcribe to dial-up or wireless high speed.

Emergency Services
Law Enforcement
The Town of Duck Lake receives services from the Royal Canadian Mounted Police detachment located in Rosthern.
The Rosthern detachment consists of fourteen staff, including civilians.
Fire Protection
The Duck Lake Volunteer Fire Department consists of 6 members who provide round-the-clock protection utilizing a 911 pager system which contacts them and transmits the location of the fire.

Ambulance
Ambulance service is provided by Rosthern and District Ambulance and can be accessed through the provincial 911 telephone system