Recent News
Meat Raffle Winner (May 16th 2013) - Winner of the ninth draw in the Firefighter meat raffle is Denis & Rachelle Poirier. Congratulations.

Mayor Awarded Medal (February 14th 2013) - Mayor Denis Poirier has been awarded the Queen Elizabeth II Diamond Jubillee Medal by the Federation of Canadian Municipalities in honour of his contributions to his community and to Canada. Denis has been involved in the community since the 70's as a teacher, in the church, with the Lions and Legion , through sports and with his cooking skills. Denis has also been on Town Council for 28 years, as Mayor for the last three. His commitment to the community has merited him this prestigious award. Congratulations.


Duck Lake Community Bulletin Board
View public posted information on everything from garage sales to special events
Have a Question about Duck Lake?

Click here to find out more information about what our town has to offer.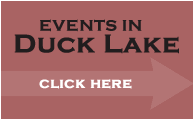 Town of Duck Lake, Saskatchewan
Welcome to the Town of Duck Lake, Saskatchewan website.

Duck Lake is located at the junction of Highways #11 and #212, 88 kilometers north of Saskatoon and 44 kilometers south of Prince Albert. It is in the center of an area great in historical importance. Within a few minutes drive from town, a person can see the sites of the Battle of Batoche, the Battle of Duck Lake, and a buffalo pit. They can visit Fort Carlton, the St. Laurent Shrine and the Seager Wheeler Farm. Because this area is rich in history, the Town of Duck Lake has an aggressive tourism marketing campaign that focuses upon the First Nation, Metis, and Pioneer cultures.
There are twelve (12) murals, including one (1) metal sculpture, on various buildings throughout town, which tell the stories of major past events that contributed to the uniqueness and richness of the district. These murals draw many tourists and perform an important function by informing people of the events that have shaped Duck Lake's , and the region's, culture.
You will find that our town provides businesses answering most needs of the community. Civic groups and organizations offer opportunities to volunteer and get involved with your neighbours. Duck Lake is a fine place to live and a great place to visit.
Russell Hanson's Mounted Police Museum
Gift Shop, Antiques, Campsites.

Regional Interpretive Center
The Regional Interpretive Center located in Duck Lake contains many interesting displays and artifacts pertaining to the era of 1885 - 1905

Housed in the Regional Interpretive Centre.

"Maestro of Majestic Skies" artwork

displayed and available for purchase.

Duck Lake Murals
Located throughout town.
Guided and self-guided tours available through the
Duck Lake Regional Interpretive Centre


Visiting Duck Lake | Business in Duck Lake | Town Office | Living in Duck Lake