Have a Question about Duck Lake?

Click here to find out more information about what our town has to offer.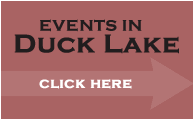 Russell Hanson's Mounted Police Museum
Phone: 306-467-4611
Fax:
Address: 205 Elevator Road
Museum, gift shop, antiques, powered campsites. Open May long weekend to September long weekend. 10:00 a.m. - 5:00 p.m. Mon. thru Sun.
Visiting Duck Lake | Business in Duck Lake | Town Office | Living in Duck Lake