Recent News
Volunteers Needed (July 10th 2015) - Beardy's & Okemasis Willow Cree First Nation is seeking volunteers to assist at the emergency evacuee center. This is a community driven response to the situation that is occurring for the north. Current needs: Daytime and Overnight security, Cooks, Sorters and Cleaners. For more information contact 306-467-4833. Even and hour or two can assist with the workload.


Duck Lake Community Bulletin Board
View public posted information on everything from garage sales to special events
Have a Question about Duck Lake?

Click here to find out more information about what our town has to offer.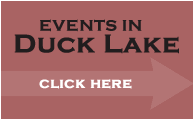 Wingard Ferry Crossing
Phone: 306-467-4950
Fax:
Address:
Hours of Operation 7am - 11:45pm Free Service. Service suspended for Meals 1/2 hour between 12 noon - 12:30pm & 6pm - 6:30pm
Visiting Duck Lake | Business in Duck Lake | Town Office | Living in Duck Lake