Recent News
Meat Raffle Winner (May 16th 2013) - Winner of the ninth draw in the Firefighter meat raffle is Denis & Rachelle Poirier. Congratulations.

Mayor Awarded Medal (February 14th 2013) - Mayor Denis Poirier has been awarded the Queen Elizabeth II Diamond Jubillee Medal by the Federation of Canadian Municipalities in honour of his contributions to his community and to Canada. Denis has been involved in the community since the 70's as a teacher, in the church, with the Lions and Legion , through sports and with his cooking skills. Denis has also been on Town Council for 28 years, as Mayor for the last three. His commitment to the community has merited him this prestigious award. Congratulations.


Duck Lake Community Bulletin Board
View public posted information on everything from garage sales to special events
Have a Question about Duck Lake?

Click here to find out more information about what our town has to offer.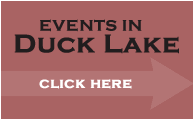 Wingard Ferry Crossing
Phone: 306-467-4950
Fax:
Address:
Hours of Operation 7am - 11:45pm Free Service. Service suspended for Meals 1/2 hour between 12 noon - 12:30pm & 6pm - 6:30pm
Visiting Duck Lake | Business in Duck Lake | Town Office | Living in Duck Lake