Have a Question about Duck Lake?

Click here to find out more information about what our town has to offer.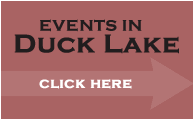 Duck Lake Regional Interpretive Center
Phone: 306-467-2057
Fax: 306-467-2257
Address: 5 Anderson Avenue
Website: http://dlric.org/
The Regional Interpretive centre invites you to experience life from days gone by - from the every day struggles of the Pioneers, to the devastating impact that the near extinction of the buffalo had on the First Nations, and to the harsh aftermath of the North West Resistance for the Métis.
Visiting Duck Lake | Business in Duck Lake | Town Office | Living in Duck Lake