Have a Question about Duck Lake?

Click here to find out more information about what our town has to offer.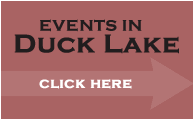 Carlton Trail Pharmacy
Phone: 306-467-4555
Fax:
Address: 255 Victoria Avenue
Presciption drugs, health & beauty needs. Open Monday - Thursday 1:00 - 5:30 p.m. and Fridays 11:00 a.m. - 4:00 p.m.
Visiting Duck Lake | Business in Duck Lake | Town Office | Living in Duck Lake